M2D2 Cycle 5 Pitch-Off!!!

---

These events truly set the stage for early-stage entrepreneurs to connect with investors, strategics, and all the ecosystem supporters who will help them on their journey.

On Tuesday, April 4, we will be back at it. 10 startups from the current #IMPACT Cohort. New stories to be told, new relationships to be created. Kyle Kruse 🚀 back on MC duties bringing the buzz. And you the audience, get to pick one of the prize winners, with our interactive voting platform!

Relive the magic from our last Cohort Pitch-off in the video and check out the people and startups involved in Cycle 5 below. We hope you can join us for another energizing evening of startup pitching!! (link to register in the comments)

Kicking off with a keynote from Rajit Kamal - Finding the exit: what strategics are looking for from startups.

Startups:

Stan Sansone from 911 Medical Devices
Diana Hall from ActivArmor
Nazgol Tavabi from BonePixel
Jeffrey Ruberti from BrilliantStrings Therapeutics
SARAH DILLINGHAM from Grace & Able
Ben Jackson from JAM.ai
Marcel M. from KAT Innovation
Benjamin Holmes from Nanochon
Rabeeh M. from OrthoKinetic Track
Jason Winder from Sonogen Medical Inc.

Thank you to our judges and prize sponsors!! Mira Sahney, Ibraheem Badejo, Ph.D., Lisa Donnelly, TOM GAMACHE, Ilsa Webeck, & peter stebbins

Upteaming, Life Science Nation, RedCrow, PQE Group, Agile Search Inc. & Product
MEDICA 2023 Conference - World Forum for Medicine, November 13, 2023 - November 16, 2023, Dusseldorf, Germany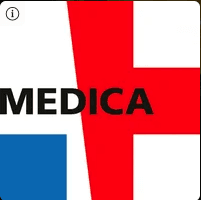 ---
RQMIS is excited to be participating in MEDICA 2023 - the world's leading international medical trade fair. The conference will be held in Dusseldorf, Germany, and will showcase over 5,000 exhibitors from 70 countries.
This year RQMIS has been invited to the Corporate Executive Office in the US Pavilion, organized and supported by the U.S. Department of Commerce. Our goal is to meet with existing and prospective clients to give them more insight into our unique approach to bringing their products to market. Come visit us! Click to learn more